The full experience of enjoying the flavors is a synergy betwen the taste and the smell. The smell directly affects the appreciation of a plate. There is an undisputed link between gastronomy and perfumery; both a chef and a perfumer try to delight with sensory pleasures.
The last gastronomic experience that we discovered deserves to be talked about: La Dama Restaurant in Diagonal Avenue very close to Passeig de Gràcia. At first, you are captivated by its singular interior, designed by the prestigious designer Cristina Carulla. An emblematic place with an impressive Modernism aesthetic, instantly perceived when you access the ground level.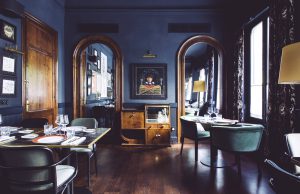 The cuisine, which seduce the most demanding pleasures, maintains the essences of the classic dishes of haute Mediterranean cuisine with a French touch. The cocktails and the wonderful selection of cheeses close the amazing sensorial experience.
A wonderful gastronomic experience in a unique setting within Gaudi's art, is definitely worth it!