Idees Diseny, a singular store where you can find the most innovative and exclusive interior design products and the best international furniture brands, just opened its second location within the heart of Vic, a historic city close to Barcelona.
Idees Diseny owners have been true believers of our concept from the very beginning offering our perfumes to their selective and demanding clientele.
We were happy to attend the opening of its second store which they named Idees City where they offered clients, partners and journalists exquisite Spanish ham "5 Jotas", a curated selection of cheeses and a delightful Priorat wine.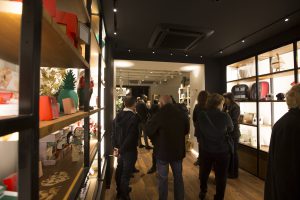 As another sign of their savoir faire, its charming owner Lidia Torruella and her family, invited us for dinner; amazing food, interesting conversation, more wine…
We wish you the best success with Idees City! Thank you for letting us be part of this exciting new adventure!